Valo24h Roasted Ground Flaxseed + Raspberry Pomegranate
Berries Berry Powders Superfoods
Make your day crunchy with Valo24h! Use on top of yoghourt or porridge, in your smoothie or as a crunchy element in salad or soup. Use in baking in all of your favourite recipes in same ratio as nuts.
Valo24h flaxseed is roasted which gives the flaxseed the best nutty flavour and quality. 
One tablespoon a day is 100 % of your daily need of omega-3. Valo24h flaxseed contains tummy soothing fiber. Valo24h flaxseed combines water which gets you to feel with already small amounts of product. One tablespoon contains fifth of your daily need of magnesium. Valo24h is complete source of plant based protein containing all the necessary amino acids.
Berry powders – an easy way to enjoy the benefits of berries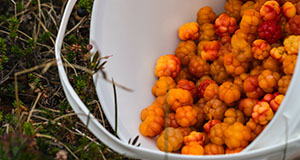 Berries are one of the best superfoods found in the Nordic nature. Bilberries, lingonberries, cranberries, cloudberries and sea-buckthorn are rich in antioxidants, vitamins and fiber, not to mention delicious to enjoy. Berry powders are an easy way to enjoy the benefits of berries around the year, wherever you are. Berry powders can be added to e.g. yoghurt, porridge, smoothies and salads or they can be used in baking. Berry powders also last for a long time when properly stored. Add more berry power to your day with berry powders!