Valo24h Organic Roasted Ground Flaxseed + Lingonberry
Berries Berry Powders Dry Products Seeds Superfoods
One tablespoon (10 g) of Valo24h Organic Roasted Ground Flaxseed + Lingonberry covers the daily need of omega-3. Omega-3 is necessary fatty acid: building material to all the cells in the human system. The sufficient intake of omega-3 (2 g per day) helps to maintain normal blood cholesterol level.
Both the flaxseed and lingon berry contains plenty of antioxidants which prevent the activity of free radicals that are harmful for cells in the human system. In addition lingonberry contains plenty of antibacterial quinic acid which lowers the acidity of urine and prevents the growth and activity of bacteria.
Flaxseed fibers activate stomach
Flaxseed contains both insoluble and soluble fiber. Insoluble fiber (2/3) helps with constipation. The soluble fiber (1/3) balances the rise of blood sugar after meal and increases the feeling of satiety. In addition consumption of Valo24h roasted ground flaxseed helps to maintain the normal blood cholesterol level by binding bile acids.

The product is suitable for low-carbon diet and for people with celiac disease.
Berry powders – an easy way to enjoy the benefits of berries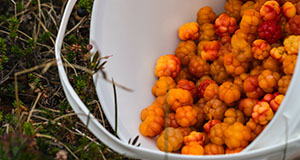 Berries are one of the best superfoods found in the Nordic nature. Bilberries, lingonberries, cranberries, cloudberries and sea-buckthorn are rich in antioxidants, vitamins and fiber, not to mention delicious to enjoy. Berry powders are an easy way to enjoy the benefits of berries around the year, wherever you are. Berry powders can be added to e.g. yoghurt, porridge, smoothies and salads or they can be used in baking. Berry powders also last for a long time when properly stored. Add more berry power to your day with berry powders!