Emendo Moomin Sauna Hat Little My
Health Moomin Sauna Shop by Interest Specials Wellness
The linen sauna hat protects your hair and skin from the heat of the sauna. One size. The size can be adjusted with the help of the velcro tape in the back. Genuine Moomin Characters -licensed product.
Emendo sauna textiles are made from high-quality mixture of linen (60 %) and cotton (40 %). The linen textiles are highly absorbent and dirt resistant. They can also withstand wear and tear as well as frequent washing.
The Finnish sauna culture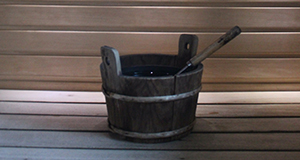 In the land of 5,5 million residents, there are 3,2 million saunas in Finland – which is more than there are cars. There is no doubt that sauna is a big part of the Finnish lifestyle. The Finns go to sauna to cleanse their bodies and minds, to socialize and to enjoy the health benefits of the hot steams. The authentic wooden sauna has a slight scent of natural tar and a dim light. Drinking a cold beer and throwing water on the hot stove, while gently whipping yourself with vihta (= birch whisk) are all a part of the sauna experience. The sauna moment is finished with a dip in the lake or sea, even in the winter. We invite you to get to know the wonderful sauna culture better!