Emendo Birch-Eucalyptus Vihta
Finnish specialties Health Sauna Wellness
A vihta made of birch and eucaluptus makes your sauna session a relaxing and refreshing experience. Gentle slapping of the skin with a vihta is a proven way to enhance blood circulation, it creates unique aroma and makes the steam procedure even more pleasent.
A birch-eucalyptus vihta is made of natural birch and eucalyptus branches. Eucalyptus leaves contain essential oils, which refresh sauna air. The length of a vihta is approx. 50 cm.
Made in Finland.
How to use?
A vihta shall be prepared for the use - it must be soaked in warm water approximately one hour. Start gentle slapping after your body is properly hot. After the sauna session rinse the vihta slightly with clean water and hang it in a dry and cool place. The next time you use the vihta prepare it as described. Do not leave the vihta on a bench or heater.
Tip
Water used soaking the vihta can be used as water for steam. Only do not throw leaves in the water on the heater. The soaking water gives steam a pleasant aroma!
The Finnish sauna culture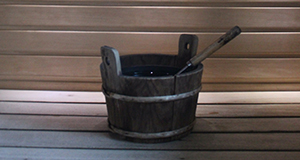 In the land of 5,5 million residents, there are 3,2 million saunas in Finland – which is more than there are cars. There is no doubt that sauna is a big part of the Finnish lifestyle. The Finns go to sauna to cleanse their bodies and minds, to socialize and to enjoy the health benefits of the hot steams. The authentic wooden sauna has a slight scent of natural tar and a dim light. Drinking a cold beer and throwing water on the hot stove, while gently whipping yourself with vihta (= birch whisk) are all a part of the sauna experience. The sauna moment is finished with a dip in the lake or sea, even in the winter. We invite you to get to know the wonderful sauna culture better!