Greenfinn's Rosehip Powder
Berries Berry Powders Superfoods
Piquant and versatile Finnish berries for breakfast! Greenfinn's rosehip powder can be used for making a very tasty milkshake that gives your day a gentle yet energetic start. The powder does not contain any additives, preservatives, or added sugar.
Greenfinn's rosehip powder makes a healthy addition to, e.g., yogurt or porridge. The orange-red rosehip berries contain, for instance, a great deal of fibre and vitamin C. Approximately 0.6 kg of rosehip berries are used for the content of each jar.
Rosehip is a versatile berry that contains an enormous amount of vitamin C.
The berries picked from Rosa Canina bushes are rich in vitamin C, beta-carotene (precursor to vitamin A), lycopene, galactolipids, and trace elements. Rosehip berries contain, e.g., potassium, calcium, magnesium, and iron. The berry powder is made of Finnish berries.
How to use
Use approx. 2 teaspoonfuls a day. You can mix the rosehip powder with, e.g., yogurt, porridge, or juice. When baking, crushed berries also make a great addition to a roll dough. In addition, crushed berries can be used for decorating raw cakes by sprinkling them generously on top of the cake.
You can make a rosehip shake by combining rosehip powder with a milk-based drink. An extra-delicious milk shake can be made by mixing a large spoonful of rosehip powder with 1 dl of milk and 2 dl of vanilla ice cream.
Greenfinn's berry powders
Greenfinn's berry powders are an easy way to enjoy the benefits of berries! One jar of berry powder contains as much as 4000–5000 whole berries. The powders contain the seeds, pulps and skins of the berries which are considered to have the most health benefits. The berry powders are made by drying and grinding fresh berries. Our bodies can better utilize the natural oils and other bioactive ingredients when the berry seeds are broken. The berry powders are an easy way to enjoy berries all-year round!
Berry powders – an easy way to enjoy the benefits of berries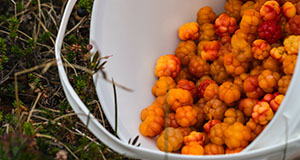 Berries are one of the best superfoods found in the Nordic nature. Bilberries, lingonberries, cranberries, cloudberries and sea-buckthorn are rich in antioxidants, vitamins and fiber, not to mention delicious to enjoy. Berry powders are an easy way to enjoy the benefits of berries around the year, wherever you are. Berry powders can be added to e.g. yoghurt, porridge, smoothies and salads or they can be used in baking. Berry powders also last for a long time when properly stored. Add more berry power to your day with berry powders!