Greenfinn's Lingonberry Powder
Berries Berry Powders Lingonberry Shop by Ingredients Specials Superfoods
Greenfinn's Lingonberry Powder – Finnish lingonberry in a jar! Only few of us know how to use fresh lingonberries, but it is very easy to sprinkle some dried berries to dishes and pastries. The taste of dried and crushed lingonberries is gentler than that of fresh berries.
Greenfinn's Lingonberry Powder does not contain any preservatives or additives, as the jar only contains berries. One jar contains up to 4,000–5,000 berries. Save yourself the trouble of picking berries and only pick this jar!
Lingonberry – the most important Finnish wild berry
The undervalued lingonberry is one of the most important wild berries in Finland. Great amounts of lingonberries are picked from the forests, and various products are made of them for domestic use. Lingonberry has traditionally been an important berry, as it is easy to preserve. In addition to humans, many animals also consume lingonberries.
Due to their tartness, fresh lingonberries do not taste all that good, but in various juices, chutneys, and jams they come into their own. Lingonberry powder is a very versatile product. A particularly easy way of using lingonberry powder is to add it to yogurt or bread and cake dough.
Fresh lingonberries do not stay good for long, but their shelf-life can be extended via the activation of benzoic acid by, e.g., mashing. A good way of bringing out the characteristic taste of the berry is to combine lingonberry powder with freshly preserved lingonberries.
Do not hesitate to try new flavour combinations!
How to use
All of Greenfinn's berry powders can be used with, e.g., breakfast yogurt. The powder can be mixed with overnight oats or traditional oat porridge to add some colour and flavour.
Also try using the powders in baking. The lingonberry powder is excellently suited for flavouring bread dough, biscuits, and bundt cakes.
Greenfinn's berry powders
Greenfinn's berry powders are an easy way to enjoy the benefits of berries! One jar of berry powder contains as much as 4000–5000 whole berries. The powders contain the seeds, pulps and skins of the berries which are considered to have the most health benefits. The berry powders are made by drying and grinding fresh berries. Our bodies can better utilize the natural oils and other bioactive ingredients when the berry seeds are broken. The berry powders are an easy way to enjoy berries all-year round!
Berry powders – an easy way to enjoy the benefits of berries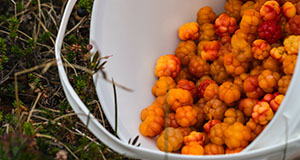 Berries are one of the best superfoods found in the Nordic nature. Bilberries, lingonberries, cranberries, cloudberries and sea-buckthorn are rich in antioxidants, vitamins and fiber, not to mention delicious to enjoy. Berry powders are an easy way to enjoy the benefits of berries around the year, wherever you are. Berry powders can be added to e.g. yoghurt, porridge, smoothies and salads or they can be used in baking. Berry powders also last for a long time when properly stored. Add more berry power to your day with berry powders!