Dr. Tolonen Cranberry + Lactic Acid Bacteria
Health Immune System New Arrivals Supplements Women's Health
Dr. Tolonen Cranberry + Lactic Acid Bacteria contains a strong dose of standardized American cranberry extract (Vaccinium macrocarpon) with 30 % protoanthocyanides (PAC).
The daily dose of 2 capsules corresponds to 37 g of fresh cranberries and contains six different strains of lactic acid bacteria and a total of 1 billion live lactic acid bacteria.
The strains are: Bifidobacterium bifidum, Bifidobacterium longum, Lactobacillus acidophilus, Lactobacillus casei, Lactobacillus gasseri and Lactobacillus rhamnosus.
The product also contains vitamin C and zinc, which promote the normal function of the immune system. The product can be used continuously or as needed, and it can also be used during pregnancy and breastfeeding.
Recommended daily dose
2 capsules daily.
Not recommended for persons who are on warfarin medication. Do not exceed the recommended daily dose. Food supplements do not replace a varied and balanced diet or a healthy lifestyle. Keep out of reach of children.
Dr. Tolonen – high-quality food supplements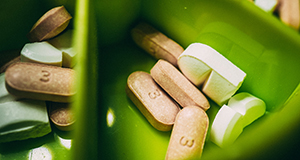 Dr. Tolonen is a food supplement brand developed by one of the most well-known experts of nutritional medicine in Finland, Doctor Matti Tolonen. The Dr. Tolonen product line consists of vitamins, fatty acids and minerals designed for preventive use. The roots of the brand extend to the 1980s when Tolonen began to develop natural treatments and self-care food supplements. Today the Dr. Tolonen is one of the most well-known and popular food supplement brands in Finland with a strong customer-base.