Biomed Linomix
Berry Powders Bilberry Cranberry Oat Sea Buckthorn Seeds Shop by Ingredients Specials Superfoods
Finnish flaxseed meal and berry powder mix.
LINOMIX® contains Finnish flaxseed meal, rose hip powder, oat bran, cranberry, blueberry and sea buckthorn powders and a pinch of cane sugar. Helps with stomach function and soothes irritated intestines. Balances blood sugar and lowers cholesterol. Linomix can be mixed with porridge, berry soup, yoghurt and other foods. Suitable for diversifying one's meals, easy to use and tastes good!

Finnish flaxseed meal and berry powder mix
High concentration of berries 24 %
Contains blueberry, rosehip, cranberry and sea buckthorn, linseed meal, oat bran and a pinch of cane sugar
High in fiber
For stomach function and intestinal well-being
Balances blood sugar and lowers cholesterol
Contains lignans and plant sterols
Suitable for daily use by adults and children
Lactose-free and gluten-free.
Health Product of the Year in Finland in 2005
Flaxseeds are high in fiber. Fiber-rich food enhances intestinal well-being and is rich in vitamins and minerals. Linseed meal contains on average 37 % of dietary fiber so it's very high in fiber. 2/3 of the fiber is insoluble and 1/3 is soluble fiber. Insoluble fiber supports intestinal well-being by increasing the mass of stool and the amount of friendly bacteria.
Water-soluble fiber is rich in berries and oat bran that Linomix contains. Fiber-rich foods keeps hunger away better than fiber-free food. Flax contains hundreds of times more lignans than other crops. The oat fiber in Linomix promotes the increase in fecal mass.
Lignan is the most important plant estrogen in the western diet and acts as a powerful antioxidant. Flaxseeds contain lignans. Lignan is a phenolic compound and a plant estrogen. From the daily dose of Linomix about 7 mg of lignans are obtained.
Like other seeds, flaxseed contains a dense package of oils, protein, minerals and vitamins. Flaxseeds are rich in e.g. linoleic and alpha-linolenic acid. Alpha-linolenic acid is a human essential polyunsaturated fatty acid, which is one of the omega-3 fatty acids. Finnish flaxseeds contains up to 20 % more good fatty acids than imported flaxseeds from abroad due to the long days of summertime.
Linomix also contains plant sterols and plant stanols, which are naturally present in berries, cereal products and vegetable oils. They promote the maintenance of normal cholesterol levels and a beneficial effect is obtained by ingesting at least 0,8 g of them per day.
Berries are high in pectin, which helps to reduce high blood sugar after a meal (pectins should be consumed 10 g daily).
Berries are excellent sources of flavonoids and other compounds. Phenolic compounds appear to have many beneficial effects on health. They inhibit oxidation which means that they act as antioxidants in both foods and in the body.
The well-known and nutritious berries of are selected for Linomix: blueberry, sea buckthorn, cranberry and rosehip. The daily dose (2 tbsp) is equivalent to about 15 kg of fresh berries per year. A pinch of cane sugar supplements Linomix's nutritional content with minerals and amino acids.
Dosage/Use
2 tablespoons (approx. 20 g) per day, mixed with water, porridge, berry soup or unflavoured yogurt etc. Excellent also when sprinkled over desserts.
40 years of expertise in supplements
Biomed originates from the development of neurolipid products. In the early 1980s, doctor Kaarlo Jaakkola and professor Raimo Hiltunen from the Department of Pharmacy of the University of Helsinki became interested in the animal lecithin extract (neurolipids). They developed a method to extract the fatty acids from the brain and nerve tissue of Finnish pigs which led to the development of their Neuroway neurolipid preparation. Since then, Biomed has become one of the most trusted manufacturer of supplements in Finland and extended their selection to vitamins, probiotics, amino acids and many others.
Berry powders – an easy way to enjoy the benefits of berries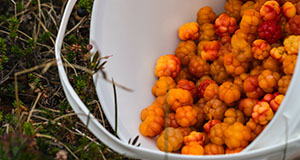 Berries are one of the best superfoods found in the Nordic nature. Bilberries, lingonberries, cranberries, cloudberries and sea-buckthorn are rich in antioxidants, vitamins and fiber, not to mention delicious to enjoy. Berry powders are an easy way to enjoy the benefits of berries around the year, wherever you are. Berry powders can be added to e.g. yoghurt, porridge, smoothies and salads or they can be used in baking. Berry powders also last for a long time when properly stored. Add more berry power to your day with berry powders!
Seeds are an excellent source of energy
Seeds contain a lot of good fatty acids, dietary fiber, vitamins, minerals and vegetable protein. 100 grams of seeds contain 33–76 g of fat depending on the variety. Especially hemp seeds and flaxseeds contain plenty of the necessary omega 3 fatty acid, alpha linoleic acid. The recommended daily intake of seeds is 3 0 g. Seeds are an excellent addition to porridges, smoothies or salads – or a nutritious snack for hikes.