Biokia Organic Yellow Berry Powder Mix
Berries Berry Powders Superfoods
Biokia organic yellow berry powder mix is a mix of organic rose hips, common sea buckthorn and cloudberries. It is high in fibre, vitamins C and E, potassium, copper and magnesium.
Yellow Berry Powder Mix
Organic rose hips 52%, organic common sea buckthorn 45%, organic cloudberry 3%. Ground from whole berries. One tablespoon of Biokia yellow powder mix corresponds to about 1 dl of fresh berries. Add Biokia yellow powder mix to yoghurt, smoothies or baked goods.
Vitamin E contributes to the protection of cells from oxidative stress. Potassium contributes to normal muscle function, to normal functioning of the nervous system and to the maintenance of normal blood pressure. Enjoy the powder every day as part of a varied diet and a healthy lifestyle.
Berry powders – an easy way to enjoy the benefits of berries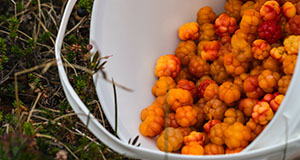 Berries are one of the best superfoods found in the Nordic nature. Bilberries, lingonberries, cranberries, cloudberries and sea-buckthorn are rich in antioxidants, vitamins and fiber, not to mention delicious to enjoy. Berry powders are an easy way to enjoy the benefits of berries around the year, wherever you are. Berry powders can be added to e.g. yoghurt, porridge, smoothies and salads or they can be used in baking. Berry powders also last for a long time when properly stored. Add more berry power to your day with berry powders!