Foodin Nordic Berry Powder Blend
Berries Berry Powders Bilberry Finnish specialties Holiday Season Shop by Ingredients Specials Superfoods
The seventh berry heaven! The Foodin Nordic Berry Blend is a powder mix of seven different freeze-dried berries that give you all the best qualities of Nordic berries. Some of the berries are wild and some cultivated.

The Nordic Berry Powder Blend contains
bilberries
lingonberries
black currant
sea buckthorn
aronia berries
raspberries and
cranberries
Lactic acid-forming Bacillus coagulans bacteria have also been added to the berry powder blend.
100% Nordic Berry Powder Blend
The Foodin berry powder is a Finnish product through and through. All the ingredients are Finnish, and both manufacturing and packaging are carried out in Finland. To reflect that, the product has been awarded the Hyvää Suomesta (Produce of Finland) label.
The versatile berry blend is easy to use and tasty. Use the powder as such in your breakfast yogurt or porridge, or add some to your snack smoothie.
1 tbsp of berry powder blend equals approximately 1 dl of fresh berries.
Note
Over time, the powder may form lumps, since no anti-caking agent has been added to this natural product. The formation of lumps does not affect the quality or shelf life of the product. You can prevent caking by regularly shaking the jar or mixing the content.
The jar is quite large in proportion to the amount of powder. Foodin packs the powder in dark Finnish glass jars that are only available in two sizes. The Nordic Berry Powder Blend is packaged in the larger 500 ml glass jars, as it would be too impractical to use the smaller jars. The dusty powder also requires a fair amount of space in the packaging phase.
Berry powders – an easy way to enjoy the benefits of berries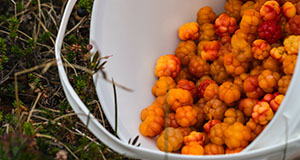 Berries are one of the best superfoods found in the Nordic nature. Bilberries, lingonberries, cranberries, cloudberries and sea-buckthorn are rich in antioxidants, vitamins and fiber, not to mention delicious to enjoy. Berry powders are an easy way to enjoy the benefits of berries around the year, wherever you are. Berry powders can be added to e.g. yoghurt, porridge, smoothies and salads or they can be used in baking. Berry powders also last for a long time when properly stored. Add more berry power to your day with berry powders!
Foodin – superfoods with only the purest ingredients!
The family-owned Foodin was born out of the wish to improve people's quality of life and to work for a better tomorrow. Foodin imports and manufactures organic foods and superfoods. The Foodin products are known for their exceptionally good taste which is the result of using clean and nutritious ingredients and a personal relationship with the farmers. Ethical production and sustainable development are the cornerstone of Foodin's operations. Foodin offers them a chance to do their work with sustainable methods. Foodin wants to take care of their customers and farmers.