Emendo Sauna Fragrance Beer
Add 2-6 drops of sauna fragrance to a scoop of water, throw over the hot stones of the sauna stove and enjoy your fragrant, atmospheric sauna. Package size 10 ml.
Made in Finland.
Ingredients
Ethanol, 2-Phenylethanol, Isoamyl alcohol, Ethyl acetate, Phenethyl acetate, 2-Furaldehyd.
The Finnish sauna culture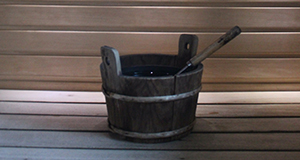 In the land of 5,5 million residents, there are 3,2 million saunas in Finland – which is more than there are cars. There is no doubt that sauna is a big part of the Finnish lifestyle. The Finns go to sauna to cleanse their bodies and minds, to socialize and to enjoy the health benefits of the hot steams. The authentic wooden sauna has a slight scent of natural tar and a dim light. Drinking a cold beer and throwing water on the hot stove, while gently whipping yourself with vihta (= birch whisk) are all a part of the sauna experience. The sauna moment is finished with a dip in the lake or sea, even in the winter. We invite you to get to know the wonderful sauna culture better!