Hukka Joy Massage Aid
Health Holiday Season Massage Sale Sauna Wellness
Warmth helps both your muscles and your soul to relax. Hukka Joy offers you a unique way to enjoy this feeling combining heat accumulated in billions of years old natural stone and high quality, ayurvedic massage oil. Joy is suitable for self therapy.
Measurements: 72x60 mm
Weight: 0,7 kg
Package includes: 1 massage stone and 125 ml of high quality massage oil
The Finnish sauna culture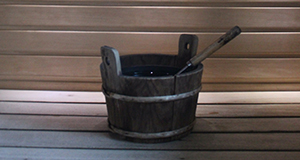 In the land of 5,5 million residents, there are 3,2 million saunas in Finland – which is more than there are cars. There is no doubt that sauna is a big part of the Finnish lifestyle. The Finns go to sauna to cleanse their bodies and minds, to socialize and to enjoy the health benefits of the hot steams. The authentic wooden sauna has a slight scent of natural tar and a dim light. Drinking a cold beer and throwing water on the hot stove, while gently whipping yourself with vihta (= birch whisk) are all a part of the sauna experience. The sauna moment is finished with a dip in the lake or sea, even in the winter. We invite you to get to know the wonderful sauna culture better!