Hetkinen Sauna Scent Gift Set
Gift Sets Health Sauna Shop by Interest Specials Wellness
Woody, smoky, herbal and bloom natural sauna scents in pine jar. 
This ready-made sauna gift set includes four sauna scents in an elegant wooden jar made of pine. When you open the lid, the vision surprises you. Each sauna drop bottle has its own beautiful place. This is a guaranteed and desirable sauna gift for all sauna lovers. More steam, aromatic steam!
Sauna has a special place in the hearts of Finns. It is part of the Finnish identity and way of life. After the sauna, you always feel good, and no wonder. The warmth of the sauna relaxes and increases general well-being.
An important part of the sauna tradition is the atmosphere and scents that you sense while relaxing in the sauna. Sauna experience created with natural Hetkinen scent drops is a unique experience that improves overall well-being.
We, the happiest people in the world, want to share these sauna traditions and secrets with everyone. Sauna gift set is a perfect way spread the joy of sauna.
Add a sauna drop of your choosing to the water bucket and enjoy the aromatic and luxurious sauna experience.
Natural, cruelty free and sustainable product. Made in Finland.
How to use?
For an aromatic sauna experience, add 10-15 drops of sauna scent to a sauna bucket filled with water. Close your eyes. Immerse yourself in the heat and the fragrance spreading across your sauna.
Don't use direct to your skin.
Hetkinen – natural cosmetics inspired by Finnish forests and trees
Hetkinen is a natural cosmetics and lifestyle brand which is based on the healing powers of trees. The product line includes cosmetics for the body, such as body butters and hand creams, as well as home products such as wood-scented candles and scent diffusers. Trees are utilized in many ways in the products: pine needles, birch leaves and essential oils from trees are examples of the ingredients used in the products. In addition, the products are packed in beautiful jars made of Finnish pine. All the Hetkinen products are 100 % vegan.
The Finnish sauna culture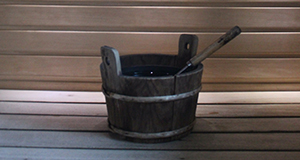 In the land of 5,5 million residents, there are 3,2 million saunas in Finland – which is more than there are cars. There is no doubt that sauna is a big part of the Finnish lifestyle. The Finns go to sauna to cleanse their bodies and minds, to socialize and to enjoy the health benefits of the hot steams. The authentic wooden sauna has a slight scent of natural tar and a dim light. Drinking a cold beer and throwing water on the hot stove, while gently whipping yourself with vihta (= birch whisk) are all a part of the sauna experience. The sauna moment is finished with a dip in the lake or sea, even in the winter. We invite you to get to know the wonderful sauna culture better!