Arctic Warriors Organic Nettle Powder
Berries Berry Powders Nettle Shop by Ingredients Specials Superfoods
Nettle - Superfood number one!
Handpicked from Lapland, Finland
Nettle is the underrated, underestimated and uncrowned king of superfoods. Filled with nutrients poweder by the Midnight Sun, our nettle packs the punch of a heavyweight champion.
Sprinkle these gold nuggets on your favourite foods and discover the eye of the tiger!
Check nettle recipes => www.arcticwarriors.fi/recipes
Arctic Warriors – power from the arctic nature
Arctic Warriors was born out of the wish to make the pure and nutritious superfoods of the North available for everyone. The power of the wild berries and herbs has been known in Lapland for centuries and they have traditionally been used for many ailments. Arctic Warriors continues this tradition with their 100 % natural products. The berry and nettle powders, elixirs and herbal shots are full of natural energy and valuable nutrients. Mix them with your daily foods and drinks to get some extra boost to your day!
Berry powders – an easy way to enjoy the benefits of berries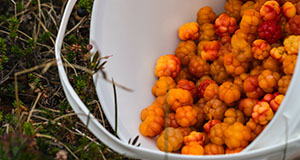 Berries are one of the best superfoods found in the Nordic nature. Bilberries, lingonberries, cranberries, cloudberries and sea-buckthorn are rich in antioxidants, vitamins and fiber, not to mention delicious to enjoy. Berry powders are an easy way to enjoy the benefits of berries around the year, wherever you are. Berry powders can be added to e.g. yoghurt, porridge, smoothies and salads or they can be used in baking. Berry powders also last for a long time when properly stored. Add more berry power to your day with berry powders!