Riipisen Milfoil Powder
Berry Powders Superfoods Wild Teas
Finnish milfoil powder - and nothing else!
Milfoil contain high levels of manganese, magnesium, iron, vitamin A and -C as well as essential oils and fats, sesquiterpene lactones, flavonoid glycosides and azulene.
Add to fatty foods, salads, sauces and herb salt mixes, soups and stews.
Game delicacies from Finland
Riipisen is a Finnish family-owned company which is known for their canned game delicacies and the best game restaurant in Finland. The selection includes canned reindeer, elk and bear meat, as well as berry powders and berry jellies inspired by the Nordic nature. The company was founded in 1989 by Pekka and Päivi Riipinen, a couple joined together by their mutual love of nature. In 1992 they opened a legendary restaurant "Riipisen Riistaherkut" at the ski resort in Ruka, located in the North of Finland. Since then the family business has grown and gained high popularity in Finland. Today their products can be ordered abroad as well!
Berry powders – an easy way to enjoy the benefits of berries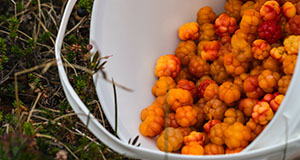 Berries are one of the best superfoods found in the Nordic nature. Bilberries, lingonberries, cranberries, cloudberries and sea-buckthorn are rich in antioxidants, vitamins and fiber, not to mention delicious to enjoy. Berry powders are an easy way to enjoy the benefits of berries around the year, wherever you are. Berry powders can be added to e.g. yoghurt, porridge, smoothies and salads or they can be used in baking. Berry powders also last for a long time when properly stored. Add more berry power to your day with berry powders!
Wild herbs from the pure Finnish nature
Finnish nature is the home to some of the world's most purest and tasties wild herbs. Wild herbs are foraged in the spring or early summer when the herbs are still fresh and their nutrient content is at their highest. Some of the most popular, exciting and unique wild herbs found in the Finnish nature include birch leaves, nettle, roseroot, dandelion, yarrow and spruce sprout. Wild herbs are full of taste and healthy nutrients which is why they are perfect for seasoning all kinds of dishes. They can also be used to brew delicious herbal tea.