Frantsila The Garden Trilogy Aura Perfume Oil
Body Care Fragrances Holiday Season Natural Beauty We recommend
A carefully balanced combination of aroma-therapeutic essential oils that lift mood and invite presence - for beauty also appears at the most unexpected, ephemeral moments.
Base notes of Finnish sweet grass and styrax benzoin leaves open you to an earthen sweetness, while cedar and hinoki ground you directly to the verdant forest floor; rosa damascena, as always, provides the heart note, filled with endless, mood boosting warmth; and, top notes of citrus lime and grapefruit remind you of the refreshing lightness of being in the moment.
Use
Apply to wrists, temples and other pulse points. Inhale deeply.
Frantsila – natural cosmetics from organic herbs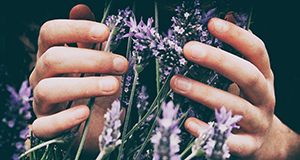 Frantsila is a pioneer in organic herb farming in Finland. Frantsila manufactures natural cosmetics for the face, body and hair, perfume oils and essential oils and other herb products. The Frantsila organic farm is owned by Virpi Raipala-Cormier and Jim Cormier and is located 40 km north west of Tampere, Finland. The farm also offers services for tourists and travelers and organizes courses focused on wellbeing. Frantsila aims to advance people's physical, psychological and mental wellbeing and living in balance with nature through education.