Dr. Tolonen Magnesium Plus
Health Joint Health Magnesium New Arrivals Vitamins
Muscle recovery
Dr. Tolonen Magnesium Plus contains magnesium oxide with a long-lasting effect and fast-acting magnesium citrate. One product combines the benefits of both types of magnesium. Vitamins B6 and B12 enhance the effect of magnesium.
Fast-acting magnesium citrate and long-acting magnesium oxide
Vitamins B6 and B12 enhance the effect of magnesium
Magnesium and vitamins B6 and B12 contribute to normal functioning of the nervous system. Magnesium contributes to normal muscle function and protein synthesis.
Recommended daily dose
1 tablet daily.
Do not exceed the recommended daily dose. Food supplements do not replace a varied and balanced diet or a healthy lifestyle. Keep out of reach of children.
Dr. Tolonen – high-quality food supplements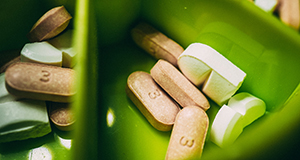 Dr. Tolonen is a food supplement brand developed by one of the most well-known experts of nutritional medicine in Finland, Doctor Matti Tolonen. The Dr. Tolonen product line consists of vitamins, fatty acids and minerals designed for preventive use. The roots of the brand extend to the 1980s when Tolonen began to develop natural treatments and self-care food supplements. Today the Dr. Tolonen is one of the most well-known and popular food supplement brands in Finland with a strong customer-base.