Tundra Natural Sauna Scent Wild Birch
Birch Body Care Body Wash Holiday Season Natural Beauty Sauna Wellness
Get the feeling of pure arctic summer or enjoy relaxing foot bath! Finnish wild birch leaves in an infusable bag.
Birch bath cleanses the skin softly and relaxes tired muscles. You can use the herbal bag for foot bath. In the sauna, you can enjoy the scent of birch forest. Place the birch bag in hot water and let it soak for about ten minutes.
Suitable for those who want to keep their sauna clean. An exotic and easy gift to give or send to your friend.

Biodegradable bag with the instructions. After bathing, you can hang the bag to dry and use it 2-3 times.
Purity from Arctic ingredients
Tundra Natural is a design company which makes natural products from Arctic plants. You can find ecological natural soaps, shampoo soaps and sauna scents in the Tundra Natural selection. The products are handmade in an atelier in Siilinjärvi, Savonia (Eastern Finland). The products are made from ingredients from the Finnish nature, such as heather, sea-buckthorn, lingonberry and nettle. The ingredients are from the founder's own forest or acquired from Finnish farmers and pickers. The beautiful Tundra Natural products are a delight in your own bathroom and they also make for the perfect gift!
The Finnish sauna culture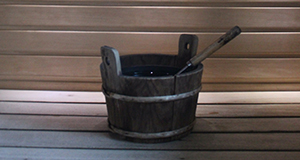 In the land of 5,5 million residents, there are 3,2 million saunas in Finland – which is more than there are cars. There is no doubt that sauna is a big part of the Finnish lifestyle. The Finns go to sauna to cleanse their bodies and minds, to socialize and to enjoy the health benefits of the hot steams. The authentic wooden sauna has a slight scent of natural tar and a dim light. Drinking a cold beer and throwing water on the hot stove, while gently whipping yourself with vihta (= birch whisk) are all a part of the sauna experience. The sauna moment is finished with a dip in the lake or sea, even in the winter. We invite you to get to know the wonderful sauna culture better!