Frantsila Natural Hand Sanitizer Spray
Our natural hand sanitizer spray is formulated with 71% alcohol, a skin-healing combination of organic herbal extracts grown on the Frantsila fields and moisturizing plant-based glycerin and aloe vera.
The sanitizer has a fresh minty scent based on aromatherapeutic essential oils such as tea-tree and thyme that have anti-microbial properties.
How to use?
Convenient to carry with you and use when hand washing is not possible.
Frantsila – natural cosmetics from organic herbs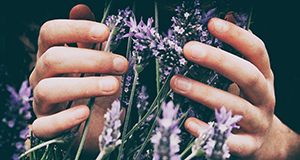 Frantsila is a pioneer in organic herb farming in Finland. Frantsila manufactures natural cosmetics for the face, body and hair, perfume oils and essential oils and other herb products. The Frantsila organic farm is owned by Virpi Raipala-Cormier and Jim Cormier and is located 40 km north west of Tampere, Finland. The farm also offers services for tourists and travelers and organizes courses focused on wellbeing. Frantsila aims to advance people's physical, psychological and mental wellbeing and living in balance with nature through education.